State Secretaries
Predrag Peruničić
State Secretary for Sports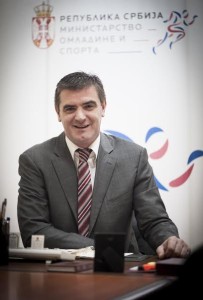 He was born on 27 June 1967 in Pljevlja, Montenegro. He graduated from the Faculty of Economics.
He's a top athlete, former national handball team player of Yugoslavia and Serbia and Montenegro, and the recipient of the national recognition of Serbia, with more than 20 years of sports career behind him, having started out in Rudar from Pljevlja.
He has won 12 trophies, among which are the special trophy at the European Championship and the World Cup, which marked his life, as well as big matches.
With the national team he won the bronze medal at the European Championship in Spain in 1996, the silver medal at the World Cup in 1992 in Sweden, and 12 national championship titles of Yugoslavia / Serbia and Montenegro.
He played in the following clubs: Rudar, Lovćen, Vojvodina, Partizan, Red Star, Al Rayyan Sports Club from Doha, as well as in several clubs of the Bundesliga.
With Partizan and Red Star he won the "double crown". After he finished his handball career, he was Executive Director of HC Red Star and Director of SC Voždovac.
Darko Stanić
State Secretary
Darko Stanić is a graduated sports manager, born in Mojkovac, on 8 October 1978.
He took up handball at the age of 12 in his hometown. He played for HC "Brskovo" - Mojkovac, HC "Lovćen" - Cetinje, HC "Berane" from Berane. As of 2002 he became a member of the HC "Red Star" - Belgrade with which he won the double crown as captain in 2004.
He then went on to the international scene, first to Switzerland and "Grasshopper Club Zürich", then to "Cimos Koper" in Slovenia, with which he twice won the Slovenia Cup, the title of the national champion, and the EHF Challenge Cup, then with the HC "Metalurg" from Skopje he was the national champion twice, the winner of the Macedonian Cup and he played twice in the quarterfinals of the EHF Champions League. Then follows the "Rhein-Neckar Löwen", Germany. For the last two years, he had played for "El Jaish" from Qatar, with which he has won twice the title of the national champion and won several National Cups. He won the Asian Champions League with the club "Lekhwiya".
He was repeatedly declared the best goalkeeper in both domestic and foreign championships. Beside in our country, it was once in Switzerland, twice in Slovenia, and twice in Macedonia. Further, he was declared the best goalkeeper in the SEHA League in the 2012/13 competition year, as well as in the EHF Champions League, in the season 2013/14.
He played 103 times for the Serbian national team. At the European Championship 2012, he won the silver medal and was officially declared the best goalkeeper of the European Championship.
In the period 2011-2014, at the RK "Metalurg" of Skopje, he was engaged in the Sector of Marketing and Public Relations, which resulted in the "HC Metalurg" being officially declared the best brand in Macedonia.
He speaks English.
He received the national recognition of the Republic of Serbia.ѕ